The FACTS About UL Certification
Even among industry professionals, there is a lot of confusion about UL certification for electrical control panels – what it is and when it's required.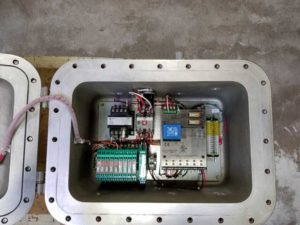 Do you need safety certification?
Panel safety compliance is managed at both federal and local levels. Ultimately, it is an Authority Having Jurisdiction (AHJ) that determines whether or not you need certified panels for a specific application. Municipalities in which you do business may have codes or regulations that require electrical control panels to be certified by a Nationally Recognized Testing Laboratory (NRTL). However, requirements can vary from jurisdiction to jurisdiction. Thus, it is advisable for any company that sources control panels to clarify the requirements of the AHJs in which they operate.
What is an NRTL?
An NRTL is an independent third-party organization recognized by the Occupational Safety & Health Administration (OSHA) to provide evaluation, testing, and certification of products. All NRTLs conduct testing and certification based on nationally recognized safety standards.
Underwriters Laboratories (UL), a well known independent company that provides third-party product safety certification, is the largest NRTL in the United States. Because it is so well known, many people assume that UL is the only organization that can provide a safety certification mark.
In reality, UL is only one of several NRTLs approved for testing and certification. Others include CSA Group Testing and Certification Inc. (CSA), FM Approvals (FM), and MET Laboratories (MET).
Why UL certify?
In the United States, Underwriters Laboratories is the oldest, largest and best known NRTL. A UL listing can help the end user of a control panel satisfy AHJ requirements. It is widely recognized and accepted by municipal inspection authorities in the United States and Canada, a UL listing can help to facilitate and expedite the installation and approval process.
What are the certification standards?
The UL standard applicable to most control panels is 508A. This is the UL Standard for Safety of the Construction of Industrial Control Panels and covers proper component selection/usage, calculation of short-circuit current ratings, enclosure environmental ratings, wiring, motor protection, safety markings, and conformance to the National Electrical Code (NEC) and Canadian Electrical Code (CEC). These requirements cover industrial control panels intended for general industrial use, operating from a voltage of 1000 volts or less, where the ambient temperature does not exceed 40°C (104°F) maximum. Depending upon the application and AHJ, companies who source panels may need to meet other, more specialized, UL standards. These can include:
UL 1203.
Standard for Explosion-Proof and Dust-Ignition-Proof Electrical Equipment for Use in Hazardous (Classified) Locations (as pictured in the first photo above).
Note that locations are "classified depending on the properties of the flammable vapors, liquids or gases, or combustible dusts or fibers that may be present therein and the likelihood that a flammable or combustible concentration or quantity is present." More detail about classification can be found here.
UL 698a.
Standard for Industrial Control Panels Relating to Hazardous (Classified) Locations.
These requirements cover industrial control panels intended for general industrial installation and use in unclassified locations with intrinsically safe circuit extensions into the hazardous (classified) locations.
How can Simplex help?
Under their panel shop program, UL tests and evaluates representative sample products and then allows manufacturers, such as Simplex, to offer the UL Listing Mark. The program covers certification for U.S. and Canadian markets. There are many panel shops that can provide 508A listed services.  There are not as many that provide 1203 and 698a listed services.  Due to Simplex's expertise and depth of knowledge we can provide all three services. If so inclined, a company can take on the responsibility of certifying any or all of the control panels that they source for their customers. To do so, however, requires a significant investment of both time and money. In most cases, it is simply more cost-effective to work with a UL listed panel shop such as Simplex. Dozens of companies rely on Simplex to meet their customer demands for UL marked panels. It is just one of the many ways Simplex provides value for our customers.
UL Certification for Control Panels: What it is and Why You (Probably) Need It … Almost all of us have at one time or another, seen UL Listed labels (marks) on the bottom of toasters, appliances, lights, and many other consumer and industrial products and devices. Thanks to these labels, Underwriters Laboratories (UL) enjoys broad name recognition. Yet most of us are probably unaware of exactly what UL is, why it's important, and how those ubiquitous labels came to be.
read more